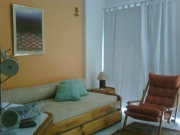 Phone number
04166503477

Address
carretera nacional moron-coro
2010
tucacas
(falcon-venezuela-sur america)

Mobile phone
04165014231

Access owner
Close
Enter your ad:

Forgot your password?
Get your "Recomended by Costasur.com" sticker here:

Small
(64 px)

Medium
(100 px)

Spacious
(150 px)
Contact us to verify that you are the owner of this business
Beachfront holiday apartments, fully-equipped and furnished with all the services included in aparthotels. They are situated within private residential areas with security, swimming pool, childrens playground and only ten minutes drive from the scenic Morrocoy National Park on the Venezuelan coast.
Products:
Fully-furnished apartment for up to 8 guests
Services
Kitchen, Fridge Freezer, microwave, toaster, blender, kitchenware, coffee machine, air-conditioning, TV, Cable TV, hot water, security and a parking space.
Opening times
8am to 6pm, Monday to Friday
Prices in Euro
Bs.500/650 per night during low season and Bs.600/800 per night during high season (15 Dec-15 Jan and 1 Aug-15 Sept)